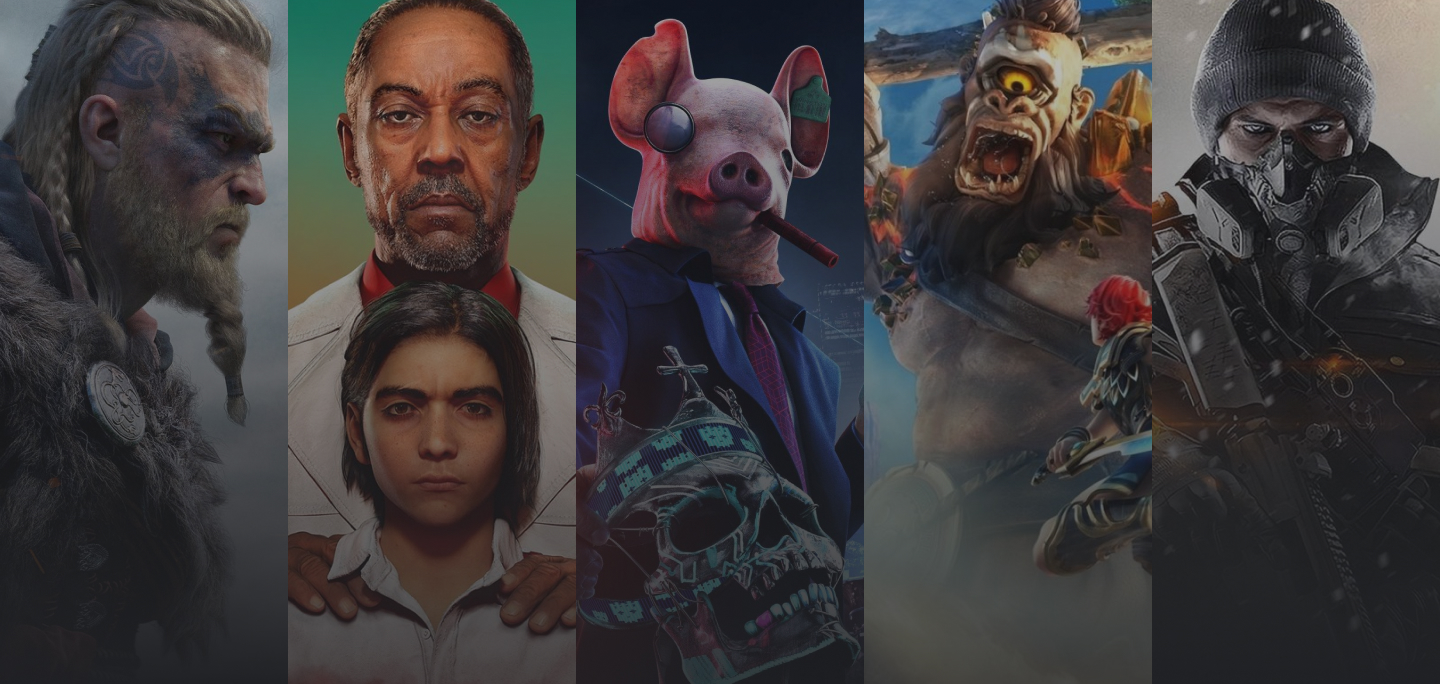 Get unlimited access to the best Ubisoft games on Stadia
Play instantly with no downloads or installs
Get started with Ubisoft+
$14.99/month, cancel anytime
Get started with Ubisoft+
Play your favorite Ubisoft games
Access the Ubisoft games that Stadia has to offer — including new releases
The ultimate way to play Ubisoft games
$14.99/month, cancel anytime
Access premium game editions
Access Deluxe, Gold, or Ultimate editions of your favorite games, including additional expansions and season passes ³
Play anywhere with Ubisoft+
You can access your Ubisoft+ games and benefits on other platforms that offer Ubisoft+
Over 100 PC games
Access the extended catalog of Ubisoft games available for download and play on your PC
Access premium game editions
Access Deluxe, Gold, or Ultimate editions of your favorite games, including additional expansions and season passes ³
Play anywhere with Ubisoft+
You can access your Ubisoft+ games and benefits on other platforms that offer Ubisoft+
Over 100 PC games
Access the extended catalog of Ubisoft games available for download and play on your PC
Play the biggest games with the stuff you already own, instantly
Your old laptops, your phones, your controllers² are reborn to play the biggest games in all their glory.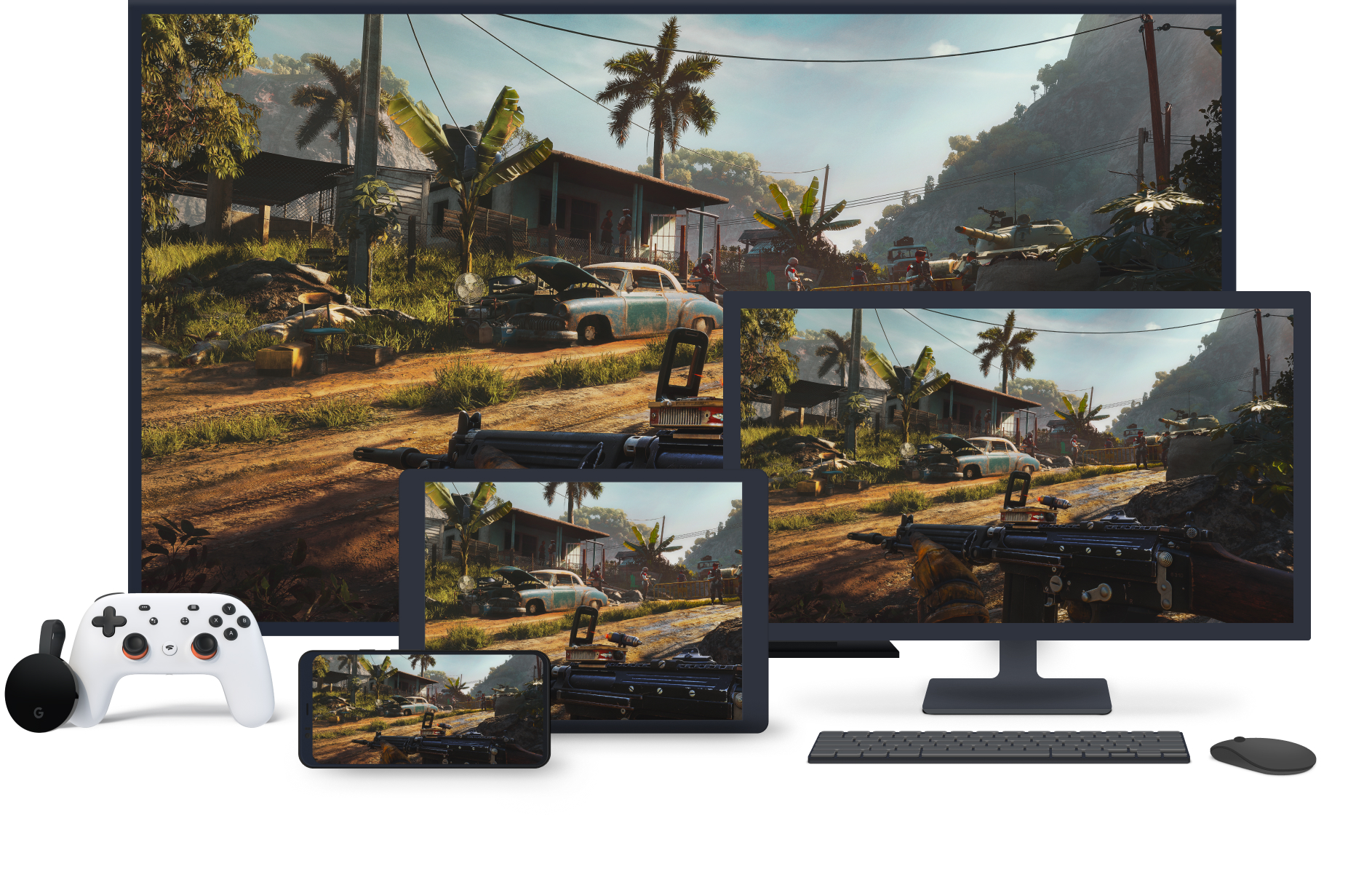 FAQs
Stadia is Google's gaming platform that lets you instantly play video games on screens that you already own. Stream games directly to your favourite
compatible devices
. They're ready wherever you have Wi-Fi or Ethernet, without waiting for installs, downloads or updates.
Similar to the way you already stream TV shows or music, Stadia streams your games directly to your desktop, laptop,
compatible phone
or tablet, or TV with Chromecast Ultra¹. With Stadia, you're ready to play in seconds.
Ubisoft+ is a subscription that offers unlimited access to play more than 100 games, including new releases, a catalog of premium editions* and additional game packs.
With Ubisoft+ on Stadia, you can play the Ubisoft games that are available on Stadia, as well as the full Ubisoft+ catalogue on PC with Ubisoft Connect.
How can I access my existing Ubisoft+ subscription?
Click the get started button above to link your account. Once complete you will be able to access your Ubisoft+ benefits on Stadia.
How much does Ubisoft+ cost?
Ubisoft+ is $14.99 a month, cancel anytime.
You can play Stadia on your computer using the latest Chrome browser, your compatible Android phone/tablet using the Stadia app, or on a TV using a Chromecast Ultra¹ with the Stadia Controller.
• All you need is a keyboard and mouse on your computer to start playing. If you have a favorite controller, many of them are compatible with Stadia on computers and Android devices via a USB cable or Bluetooth, see here for a list of compatible controllers and gamepads.
• You can also play games on Stadia with the Stadia Controller.
What kind of internet do I need?
An internet connection speed of 10 megabits per second (Mbps) or greater is the minimum recommended to use Stadia. See more tips and tricks on how to get the best gaming experience.
Learn more
¹Chromecast Ultra requires a TV with an HDMI port, a Wi-Fi network, a Google Account, a nearby electrical outlet or USB port, and a compatible mobile device. Minimum OS requirements are available at
g.co/cast/req
.
²Stadia controller and Google Chromecast Ultra may not be available for purchase in your country/region.
Read more
.
³Where premium or special editions of the game are indicated, editions included in Ubisoft+ may not include all premium content. Offer subject to change.